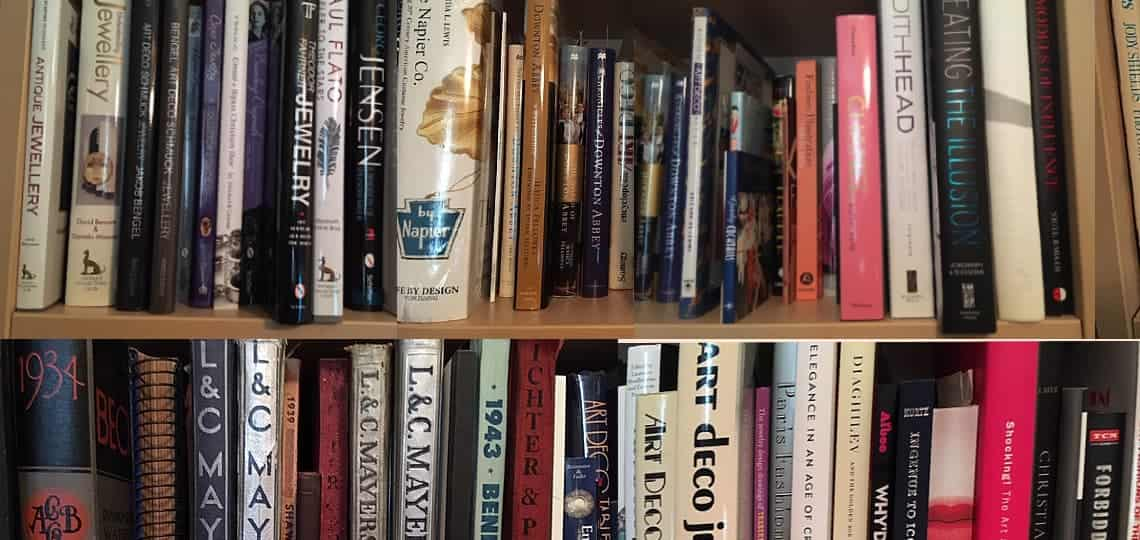 Books & Online Resources for Jewelry Research
Listed here are the books and websites referenced in product descriptions, blog posts, or elsewhere on this website. All of these resources are recommended for those interetested in learning about vintage costume jewelry.
OVERVIEWS
Although this encyclopedic website focuses on fine jewelry, much of the information is useful to costume jewelry collectors. Included is a glossary of terminology, the history of particular types of jewelry, explanations of manufacturing methods, articles on decorative styles/periods, and lists of collections and exhibitions.
Becker, Vivienne. Fabulous Costume Jewelry: History of Fantasy and Fashion in Jewels.
Schiffer Publishing Ltd., 1993.
Covering the Georgian period through the 1980s, this volume discusses costume jewelry within the context of fashion and women's roles through history.

Bell, C. Jeanenne. Answers to Questions About Old Jewelry, 1840 – 1950. 8th ed. Krause Publications, 2014.
The first section of this essential text on fine and costume jewelry is devoted to each design period. Included is information on what happened in England and the U.S., how people lived, and what they wore during each era, as well as photographs of jewelry types and materials. The seventh chapter covers findings, design motifs, materials, and embellishments in the context of clues for dating jewels. The second section discusses different types of metals and stones, manufacturing and construction techniques, and makers' marks.
Brunialti, Carla Ginelli and Roberto Brunialti. American Costume Jewelry: Art & Industry, 1935-1950. Vol. 1, A-M; Vol. 2, N-Z. Schiffer, 2008.
These two volumes, the result of the authors' 20 years of impeccable research, study, and collecting American vintage costume jewelry, are required reading for anyone interested in the subject. Included are nearly 1,000 photographs; over 700 illustrations of patents, advertisements and historic photos; and detailed information on patents, makers, and their marks.
Farneti Cera, Deanna. Adorning Fashion: The History of Costume Jewellery to Modern Times. ACC Art Books, 2019.
Farneti Cera, Deanna, ed. Jewels of Fantasy: Costume Jewelry of the 20th Century. Harry N. Abrams, 1991.
With contributions by notable jewelry historians, this book discusses costume jewelry produced in Austria and Germany, France, the U.S., and Italy during particular time periods. Some style overviews as well as an excellent chapter on "Techniques and Materials" and an extensive glossary are included.
Gänsicke, Susanne and Yvonne J. Markowitz. Looking at Jewelry: A Guide to Terms, Styles, and Techniques. The J. Paul Getty Museum, 2019.
Moro, Ginger. European Designer Jewelry. Schiffer, 1995.
This well-researched, invaluable volume covers 20th-century designer jewelry in 13 countries of Europe and Scandinavia. Three types of jewelry are discussed within the context of national characteristics: hand-crafted, limited-edition artists' jewelry, fashion jewelry created for haute couture, and mass-produced costume jewelry. This book is another must read.
Müller, Florence. Costume Jewelry for Haute Couture. Vendome Press, 2007.
Newman, Harold. An Illustrated Dictionary of Jewelry. Thames and Hudson, 1981.
An authoritative and scholarly work, this dictionary covers terminology pertaining to jewelry and jewelry making, descriptions of gemstones and their characteristics, and brief biographies of designers and makers of fine jewelry.
Proddow, Penny, Debra Healy and Marion Fasel. Hollywood Jewels: Movies, Jewelry, Stars. Abrams, 1992.
Often referenced in my Jewelry in the Movies series, this title is my go-to source for information about fine jewelry owned and worn by Hollywood's biggest film stars.
Rainwater, Dorothy T. American Jewelry Manufacturers. Schiffer, 1988.
This compilation of jewelry trademarks and manufacturers from old editions of trade journals and their related directories was a ground-breaking work. A glossary is included. Although some of the information is incomplete or inaccurate, based on more recent findings, this work was the first to document makers and their marks in a single volume.
Originally created and published by Dotty Stringfield on IllusionJewels.com with research from contributor Pat Seal, this important resource is now hosted by Costume Jewelry Collectors International. The first section is "Costume Jewelry Marks Guide", with has what must be the largest compilation of costume jewelry marks and signatures. The second section – RCJ Articles, Galleries, and Catalogs – has links to articles on particular designers as well as albums of vintage jewelry catalogs and brochures, ads, patents, and more.
Romero, Christie. Warman's Jewelry: Fine & Costume Jewelry. 5th edition. Krause Publications, 2013.
This "field guide" to styles and types of fine and costume jewelry covers the late 18th century through the 1970s, with an emphasis on the U.S. The unique "Timeline" notes historical events, discoveries, and inventions that help to provide a context when dating jewelry. Information regarding marks on metals, makers' marks (for 20th-century American manufacturers/designers), and basic hallmark identification; an extensive list of references for further information, and a glossary follow the main chapters. The author was a world-renowned jewelry historian, and this edition was her last before her untimely death.
SPECIFIC MAKERS
Gordon, Cathy and Sheila Pamfiloff. Miriam Haskell Jewelry. Revised 2nd ed. Schiffer, 2009.
This well-researched and detailed volume is required reading for collectors of Miriam Haskell jewelry. For additional information, see Albums by Albums by Cathy Gordon — Image Event. Specific references have been made to the following pages in my product descriptions: Haskell – Signatures, Findings, Beads and Haskell – Unsigned Clips and Pins.
Gostick, Patricia. McClelland Barclay: Painter of Beautiful Women and More. Self-published with publishing services by Friesen Press, 2021.
Lindemann, Wilhelm. Bengel Art Deco Jewellery: Jewellery and Industrial Monument, Idar-Oberstein/Germany. Arnoldsche, 2007.
Schwartz, Barbara. "Diamonbar Bracelets & the Men Who Made Them", Costume Jewelry Collectors International, June 16, 2015.
This piece focuses on the bracelets made by Wachenheimer Brothers in the 1920s-1930s. For their complete story, see the next citation.
____________. "Wachenheimer Brothers: Their True Story", Adornment: The Magazine of Jewelry & Related Arts. Vol. 10, No. 1.
I researched this company and wrote this article because I am a collector of their creations and was tired of seeing only incorrect information about them.
Schwartz, Barbara and Robin Deutsch. "Bracelets by Otis: A Surprising Connection". TruFaux Jewels, December 2017.
This article documents the true beginnings of Otis, Inc., a costume jewelry maker in Providence, Rhode Island. Long reported to have opened in 1943, the company had started nearly a decade earlier after buying the assets of a prominent firm that had ceased operations in 1934.
____________. "Schreiber & Hiller: A Jewelry Mystery Solved", Adornment: The Magazine of Jewelry & Related Arts. Vol. 11, No. 4.
The culmination of several years of research, this documents the true story of this German jewelry maker who marked their 1930s pieces "DRGM 1138525" and their 1950s creations "ESHA" and "RANDEL". You can also find the article on this website here.
Schwartz, Sharon G. and Laura Sutton. Eisenberg Originals: The Golden Years of Fashion, Jewelry, and Fragrance, 1920s-1950s. Schiffer Publishing Ltd., 2017.
A long-awaited, well-researched book about the company that began as a clothing manufacturer and then developed a line of costume jewelry coveted today by many collectors.
van Hoover, Cheri. "Walter Lampl: Creator of the Unusual…As Usual", Vintage Fashion & Costume Jewelry, Vol. 14, No. 1, 2004, pp.10-17.
von Hase-Schmundt, Ulrike, Christianne Weber and Ingeborg Becker. Theodor Fahrner Jewelry: Between Avant-Garde and Tradition. Schiffer, 1991.
Weber-Stöber, Christianne. Art Deco Jewelry: Jacob Bengel. Arnoldsche, 2002.
PATENTS
Started in 2004 by James Katz and now managed/hosted by others, this website presents design and utility patents granted by the U.S. Patent Office. You can browse by company, issue date, category, and patent number. You can also search for specific patents. Each entry includes the drawing and specification, and, when available, a photo of the piece and/or a vintage ad.
U.S. Patent & Trademark Office. Patent Public Search Basic.
Use this link when you want to obtain a PDF of a design or utility patent granted in the U.S. If you know the patent number, enter it in the "Quick lookup" box at the top, click the "Search" button, then scroll to the bottom to see your search results. Follow the on-screen instructions for entering the number or for searching by other criteria (such as inventor or assignee) in the "Basic search" box.
World Intellectual Property Organization (WIPO). Directory of Intellectual Property Offices.
Use this directory to find websites of patent offices in foreign countries.
ORGANIZATIONS
Costume Jewelry Collectors International (CJCI) shares jewelry information and resources with all jewelry lovers through articles published on their website.
Jewelcollect is an online forum for collectors of costume jewelry. Subscription information is included on the site. TruFaux Jewels is a registered member.
Vintage Fashion Guild (VFG) is an international organization "dedicated to the promotion and preservation of vintage fashion". Sellers and other vintage-fashion-related professionals must apply for membership and are vetted before acceptance. Trade members are expected to follow VFG's code of ethics and professional practices. TruFaux Jewels is a trade member. A wealth of information on vintage fashion and accessories is available to the public.
Design Patents
Learn how design patents are key to identifying and dating vintage costume jewelry pieces
Feature Articles
Learn about a surprising connection and how a jewelry mystery was solved in these articles
Utility Patents
Read how utility patents protect the unique mechanisms created by jewelry makers